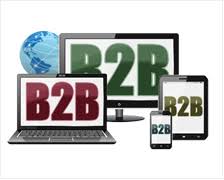 ALL YOU NEED TO LEARN ABOUT B2B WEBSITE DEVELOPMENT
Developing a B2B website has now become a number one priority for any enterprise owner that deals in goods and services offered for sale to other business outfits. This form of a business model usually follows a different set of rules, which is why your conventional, static page website might not make the cut here. You need that little extra functionality to provide your customers with a more enriched buying experience so that you are able to make a positive impression on their minds and beat your competitors in the market. Imagine your customers, dealers and distributors get the chance to see and keep track of their online and offline orders through your website, managing budgets, comparing prices and taking advantage of ongoing promotions via an enriched online experience. This is what a B2B website development exercise can create for you –a chance to win over client preference forever!
B2B websites and e-commerce portals can integrate with your existing ERP and inventory management systems to provide you as well as your customers with a clear picture of your current status of stocks. This improves customer relationship management and helps in making your business operations more efficient and accountable. This way your website becomes your major revenue earner while your customer service team actually gets to focus on customer service rather than simply playing the role of order takers.
B2B website development is highly beneficial from the lead generation and marketing outreach point of view. No other promotional media can provide you with the kind of market penetration and brand visibility as a fully-fledged e-commerce ready website. Sales and lead generation become easier, imparting product info becomes more efficient and order finalization and processing becomes more streamlined – these are just some of the many ways in which your business stands to gain from a B2B website development exercise.
Creating a satisfying buying experience for customers is the most prominent outcome of taking up such a project and THAT, is a viable benefit to pursue. What so you think?