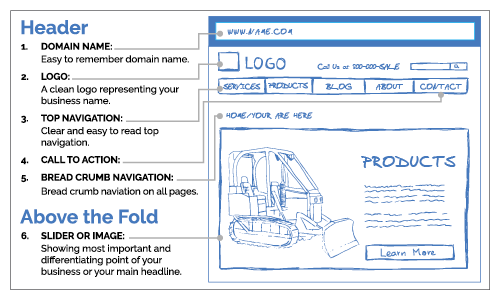 Web Conventions Add to the Visitor Experience
In the past 20 years, B2B websites have evolved from a cyber wild west to a gentrified online community. Users expect websites to follow the conventions of its genre just like print documents. Notice how newspapers, magazines, annual reports, books, catalogues, etc. all follow a standard format. There is room for creativity, but within the scope of the genre's basic design format. Website visitors have come to expect the same from webpages. For example, visitors expect to find the website's logo in the top-left corner and the header navigation across the top or in a column on the left side. Many elements have a standardized appearance, like icons for search, social media, video, email, etc.
According to "Don't Make Me Think" author Steve Krug, "Web conventions make life easier for users [adding to the user experience] because they don't have to constantly figure out what things are and how they're supposed to work as they go from website to website." He goes on to say that a goal should be "to make each webpage self-evident so that the user doesn't have to stop and think about it. They just 'get it.'"
Graphic designers and creative types are reluctant to follow website conventions because they feel it limits their freedom of expression. Don't be tempted to reinvent the wheel. Pardon my over-the-top metaphor, but if the wheel already rolls, why not focus on adding pimp daddy hubcaps? A WordPress website template can quickly become your own with thoughtful navigation and quality content and photos.
Save the innovation for your product; use standard website conventions to generate leads and sell it.
---
For more on website design, check out our blog post "40 Features B2B Websites Must Have."
Originally posted 2017-01-02 23:18:04. Republished by Blog Post Promoter