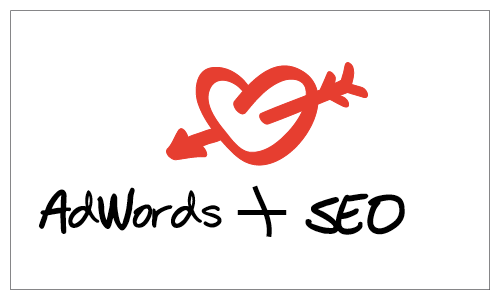 Which is More Effective: AdWords or SEO Marketing?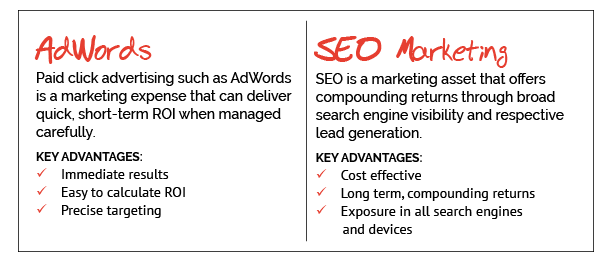 When it come time to choose between investing in AdWords vs SEO marketing strategy, things may not be as black and white as they appear. In some instances, AdWords is quicker and more useful than SEO methods. In other ways, it's slower and more expensive. SEO strategies conversely, are great for pushing organic traffic to your sites where your ROI is most easily measured.  Let's compare and contrast AdWords vs SEO.
THE BASICS OF SEO: Search Engine Optimization maximizes your web presence, reach, and content to climb the Google rank system organically. SEO means engaging, high-quality content that appeals directly to your audience and relevant to your brand.
THE BASICS OF ADWORDS: Google's AdWords feature is a pay-per-click advertising service. It's designed for website owners to promote their business using paid advertisements that appear within the Google search results. Google also places these ads on affiliated sites like YouTube and Gmail.
The Pros & Cons of AdWords vs SEO
Google AdWords Means Traffic
Many new businesses worry that generating web traffic organically will take a long time. By using AdWords you will accelerate the growth of your website dramatically. This is because visibility can be created naturally using SEO methods, it can take some time to optimize your website fully. If you want faster results, it would be best to integrate AdWords into your SEO strategy. As you are going about generating high-quality content and a friendly user interface, AdWords will efficaciously gather viewers to your site by using the keywords you choose, (just don't forget that you have to bid for them).
SEO Is a Like a Pressure Cooker, AdWords Is Like a Microwave
Think of SEO like a long term relationship that you'll want to invest time in. Your SEO romance can be turbulent sometimes, but the result, in the end, will be worth all the hard work. If you stick in there and follow through, and fill your site with attractive content and smart marketing strategies, SEO will lift you to the top of Google rank listings.
AdWords, conversely, is like an exciting, but short-term fling. The traffic influx is great while it lasts, but you will have to constantly fork over more cash just to keep it running. AdWords may not suit your budget in the long term, but when you do use it, it can provide a nice boost to your traffic count.
Marry AdWords with your SEO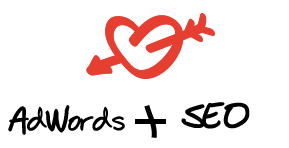 To make your website shine, you should use AdWords in combination with SEO strategies. If you're just getting started and want to see fast results, begin with AdWords. But don't rest your laurels solely on AdWords. If SEO efforts are put off too long, your website ranking will fizzle. Keep in mind, Google AdWords only works on Google. If you rely on AdWords only, you'll be omitting traffic from all the other major search engines. The boost in traffic you'll get from your AdWords campaign is nice, especially in the beginning. It's a good way to introduce your brand to the public while you work on curating your SEO content.
Remember, SEO and AdWords are not mutually exclusive. AdWords is really an optional bonus that can pull you through the lean SEO periods. You can build a good website with or without AdWords. It's a terrific option, but it can never really compete with a good SEO strategy. It can, however, enhance it. You cannot expect your business to flourish using AdWords alone. A robust SEO strategy is the backbone of any good ad campaign. AdWords is just a booster. Work out the best strategy for your business, and remember- AdWords and SEO can work together beautifully to make your website shine.  Thus when comparing Adwords vs SEO, the answer is… it depends!
Originally posted 2016-09-06 17:44:07. Republished by Blog Post Promoter