An Introduction to Web Lead Management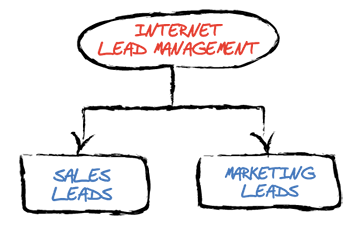 Generating Internet leads is a web-based advertising process that is done by seeding the USP (unique selling proposition) of the service in the minds of people and converting them into potential customers. Lead generation is done to make people interested in your line of products or services. It involves steps such as lead intelligence gathering, inbound marketing, segmentation, scoring, and more.
Internet lead management can be classified into two categories, namely sales leads and marketing leads. Sales leads are inquiries from highly interested customers who just want to know the answers of specific questions before they make a purchase. These questions may relate to certain particulars such as technical specs, warranty terms and so on. Questions from interested customers who are still looking including brand-specific inquiries and interests are referred as marketing leads.
To bridge the gap between marketing and sales, different strategies are adopted to generate leads which with time turn up to become potential clients. A successful B2B SEO (search engine optimization) program should generate more leads than one can manage on a yellow legal pad.  Customer relationship management (or CRM) tools are software solutions, often cloud based such as the industry leader Salesforce.com, that help sales reps manage leads from opportunity creation through closed-won.
Here is a quick look at the processes that form part of web lead management:
The first step is to formulate a procedure that helps you demarcate potential clients and the gap between expected sales vs. actual sales. This can be done by drawing demographics under different strategies and illustrating which strategy is effective to generate leads effectively. Another way is to survey the behaviour of people of the target sector to know their interests and make them aware of the services you offer.
The next step is to gather information and deploy it to formulate a database of intelligent information. It helps to generate useful information to target potential customers and is crucial to turn a marketing lead into a sales lead and thereon to an actual sale.
Once you have gathered the information and started stepping towards sale management, its time you start scoring the leads. Higher rated leads are most likely to convert into business associations. Make effective strategies to pace up all over leads as well.
A client, once generated, must be treated with quality service. This is the most crucial step to nurture the lead. You can do this by educating them about your promotional offers and benefits and making them loyal to your company. Also, delivering within the time promised is crucial to keep the client.
To know more about web lead management, talk to a company that specializes in this field and ask them how they can help with details such as lead pre-qualification, scoring and grading, marketing automation, and implementation.  Here at LUM.NET we are passionate about generating leads for our clients and as such have expertise in helping our clients manage those leads.  Our team of experienced B2B marketing professionals and Salesforce implementation certified consultants are ready to help you with your B2B website and respective B2B SEO strategy.