Fastline.com
Fastline surprised the heck out of me in total search engine traffic with 226k visitors per month. I must admit, though I advertised heavy machinery online for 7 years, I had never heard of Fastline prior to my research.  They tend to specialize on the agriculture market where I was not so that is perhaps why. But they kept popping up in my tools as competitors to the others, so I added them to the analysis.  Also surprising was that Fastline spends 3x more than the next highest spender in this analysis and 23x more than ETO!  Bringing in 51,000 visitors from paid clicks for $37,200 per month, Fastline is spending on average just 72 cents per click.  
Looking at the All TIme growth chart, Fastline has had steady growth from search engine traffic since 2013 after recovering from a bit of a dip in 2012 likely due to a Google update.

TOP 10 ORGANIC KEYWORDS
Similar to most sites in this analysis, branded keywords are the leading sources of traffic.  The most popular non-branded keyword, skid steer for sale, shows up #2 in Google.  What was #1?  Machinery Trader.  ETO was #4.  The #3 for skid steer for sales is MachineryPete.com (not part of this analysis, but good job Pete!)
ORGANIC – Top 10 keywords by % of traffic
Fastline.com
Position
Traffic(%)
fastline
1
9.59
fast line
1
0.56
skid steer for sale
2
0.37
fastline.com
1
0.35
sickle mower
1
0.33
bush hog
5
0.32
tractors for sale
5
0.32
fastline tractors
1
0.31
fastline tractor
1
0.31
backhoe attachment
1
0.27
TOP 10 PAID SEARCH KEYWORDS
With so much budget on paid search, I was eager to dig into the traffic from that click spend.  While Fastline is well known for its ag equipment, apparently those farmers like to play golf too. Whoever at Fastline dialed into this notion and started advertising golf carts is a genius!  I wonder how many garage bays these farmers have to house their tractors, horse trailers and golf carts.  Interestingly Fastline is paying customer clicks for those that type "Fastline" into Google search and click the paid ad. I know it's common among some search marketers to recommend paying for your branded search terms, but I don't recommend it usually.  In most cases, a branded search will put the correct company #1 in the search results which is the case for Fastline.  They don't need to pay for the approximate 30k of clicks from existing customers who would easily click the first result for Fastline.com in organic search instead, IMO.  Even at just 72 cents per click, that's $21,600 bucks on existing customers!  See below screen for clarification on the difference between their paid ad results and a natural search result.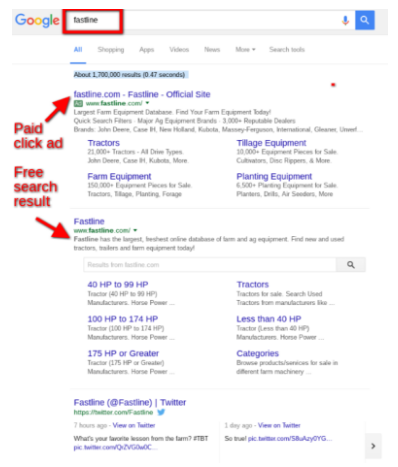 PAID – Top 10 keywords by % of traffic
Fastline.com
Position
Traffic(%)
golf carts for sale
2
1.03
fastline
1
2.49
mahindra tractors
1
2.04
dump trucks for sale
2
0.46
enclosed trailers for sale
2
0.37
tractor for sale
4
0.2
used golf carts
2
0.3
used trailers for sale
2
0.3
kubota parts
4
0.16
horse trailers for sale
2
0.3
Read more about : Lum.net, Houston Tx search engine optimization services.